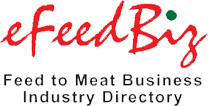 WELCOME

to eFeedBiz online search solutions
The Online eFeedBiz Industry Directory comprises a comprehensive database of worldwide feed to meat industry companies. With sections dedicated to Company and Product Directory, the extensive and categorical listing of contact and product information is readily available for all users.

Complemented by The Print eFeedBiz Industry Directory (click on the icon on the left to view it online), it is increasingly becoming an important reference guide for buyers in the feed to meat industry.

To enjoy all the benefits of listing on The Industry Directory, click here to update your company and product information, or list your company for free on eFeedBiz.com.