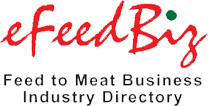 JH Biotech, Inc.
Contact Details
Company Name
JH Biotech, Inc.
Contact Person
Ms. Michelle Zdybowicz
Telephone
1 - 805 - 6508933
Fax
1 - 805 - 6508942
Email
info@jhbiotech.com
Street Address
4951 Olivas Park Drive
Town/City
Ventura
State/Province
California
Country/Location
United States
Postal Code
93003
Website
http://www.jhbiotech.com
JH Biotech, Inc.
JH Biotech, Inc. specializes in formulating chelated and complexed minerals for Calcium, Cobalt, Chromium, Copper, Iron, Magnesium, Potassium, Manganese, Selenium, and Zinc. Our products include Buffermin Proteinates, Buffermin Methionates, Yeast, Instamin soluble minerals, Odor Buster, MorAcid and Oligos.
Company Profile
Company Name :
JH Biotech, Inc.
Business Type :
Feed Supplement Supplier
Product/Services :
chelated and complexed minerals
Company Website :
Main Markets :
Asia
Australia and the Pacific
Central America
Europe
Middle East
North America
South America