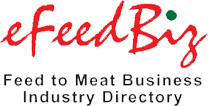 VitaLink Plus - Vitamins, Minerals and Amino Acids Premix
Contact Details
Company Name
Crown Pacific Biotechnology Pte Ltd
Contact Person
NA NA
Telephone
65 - 62612255
Fax
65 - 62658690
Town/City
Singapore
Country/Location
Singapore
Postal Code
609204
Street Address
38 Penjuru Lane
Website
Product Name
: VitaLink Plus - Vitamins, Minerals and Amino Acids Premix
Unit Size
: 30 kg
Packaging Type
: 30 Kg per bag
Product Origin
: Singapore
VitaLink Plus is a complete premix which contains vitamins, minerals and amino acids. The right combination of these nutrients is vital to the improvement of farm performance, overcoming stress factors, and maximizing profit to the farm owner. A quality premix also requires uniform distribution of vitamins, minerals and amino acids which is critical in the final feed.

Key factors contributing to a quality premix include: proper selection and monitoring of raw materials, accurate weighing and mixing equipment, superior quality control standard, and finally, well-protected packaging.

Crow Pacific Biotech gives customers assurance of premium quality products through in-depth understanding of nutrient requirement of animal, experience and internationally recognized quality standard of HACCP & ISO.