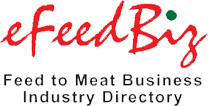 Phytazag
Contact Details
Company Name
Zagro Singapore
Contact Person
Karen Wee
Telephone
65 - 67591811
Fax
65 - 67591855
Town/City
Singapore
Country/Location
Singapore
Postal Code
738430
Street Address
Zagro Global Hub, 5 Woodlands Terrace
Website
Product Name
: Phytazag
Unit Size
: 100 g
Packaging Type
: Sachet
Product Origin
: Singapore
Phytazag is a phytase preparation which improves phosphorus availability in feeds by releasing phytin-bound phosphorus in feed ingredients. It improves feed cost savings and reduces the use of inorganic phosphorus supplementation in feeds. Phytazag is available in two preparations:

Phytazag 250-with 5000 units/gram Phytase activity
Phytazag 500-with 2500 units/gram Phytase activity

It is also available in 100 GM, 500 GM and 1 KG.