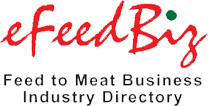 Rodotium/Vetmulin
Contact Details
Company Name
Huvepharma
Contact Person
Tanya Koleva
Telephone
359 - 28625331
Fax
359 - 28625334
Town/City
Sofla
State/Province
Sofia
Country/Location
Bulgaria
Postal Code
1113
Street Address
5th Fllor
Website
Product Name
: Rodotium/Vetmulin
Unit Size
: 1 kg
Packaging Type
: Sachets of 125 g or 1 kg, plastic buckets of 1 kg; drums of 5 kg, 10 kg and 25 kg
Product Origin
: Bulgaria
RODOTIUM® 10% PREMIX
VETMULIN® 10% PREMIX
(tiamulin hydrogen fumarate)

COMPOSITION
Rodotium/ Vetmulin 10% premix
Tiamulin hydrogen fumarate 10 g
Excipients up to 100 g

PHARMACOLOGICAL ACTION
Rodotium/ Vetmulin 10% premix contains tiamulin hydrogen fumarate, a semi-synthetic antibiotic of the diterpene group. Tiamulin is active against mycoplasmas, Haemophilus parasuis (Glasser disease), Brachispira hyodysenteriae, Lawsonia intracellularis (ileitis), Serpulina pilosicoli (spirochetosis of the colon), Gram-positive microorganisms. It does not affect directly E. coli, but it exhibits antiadhesive effect, which facilitates the action of the other antibiotics.

INDICATIONS
For prevention (metaphylaxis) and treatment of enzootic bronchopneumonia, actinobacillus pleuropneumonia, chronic respiratory disease, dysentery (bloody diarrhea), proliferative enteropathy (ileitis) and spirochetosis of the colon; in cases of increased morbidity and mortality rate of unknown etiology; for overcoming of stress conditions (such as transfer into another box or long transportation); for suppression of secondary bacterial infections in Porcine Reproductive and Respiratory Syndrome (PRRS) in pigs and other virus infections.

CONTRAINDICATIONS
Not established.

MODE OF ADMINISTRATION
Orally, well homogenized into feed. In order to reach uniform homogenization with feed, it is recommended to mix the measured quantity of the preparation (calculated on the basis of the prescribed dose) on stages in the following order: up to 10 kg feed; up to 100 kg feed; and up to 1000 kg final feed.

TARGET SPECIES
Pigs, poultry.