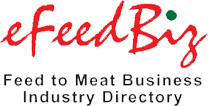 Pellet mill FeedMax G9
Contact Details
Company Name
ANDRITZ Feed & Biofuel A/S
Contact Person
Anne-Julie Andersen
Telephone
45 - 72 - 160300
Fax
45 - 72 - 160301
Town/City
Esbjerg
State/Province
-
Country/Location
Denmark
Postal Code
6705
Street Address
Glentevej 5-7
Website
Product Name
: Pellet mill FeedMax G9
Unit Size
: 1 set
Packaging Type
: --
Product Origin
: NA
Fine-tuned design offering highly efficient pelleting.

The G9 series combines the best of current pellet mill technology with proven features from our long-established family of gear-driven pellet mills, while offering the highest output per kWh in its class.

Key features:
• Robust, easy-to-maintain design
• Compact profile, small footprint, modular design – making the mill easy to fit in your facility
• Effective feed distribution – a unique, one-piece adjustable feed plough design for fast, easy adjustment – ensures uniformity of feed distribution across the die area and ahead of each roll.