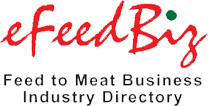 Feed Enzyme 828B
Contact Details
Company Name
Guangdong VTR Bio-Tech Co Ltd
Contact Person
James Hu
Telephone
86 - 756 - 8676888
Fax
86 - 756 - 8673980
Town/City
Zhuhai
State/Province
Guangdong
Country/Location
China
Postal Code
519060
Street Address
No. 8, Pingbei Rd 1, Science & Technology Industry Zone, Nanping
Website
Product Name
: Feed Enzyme 828B
Unit Size
: 25 kg
Packaging Type
: 25kg/bag
Product Origin
: China
YIDUOZYME 828 series were developed and produced according to pigs' digestive and physiological characteristics of different phases and the contents of anti-nutritional factors in the feedstuff for pigs. YIDUOZYME 828 series are the effective, new type of green feed additives manufactured by Guangdong VTR Bio-Tech Co.,Ltd. with advanced bioengineering technologies.

Executing Standard : Q/YDL001-1998
Production License: feed additive(2000) 0751
Issued No.: yue feed additive no. (2001)182005

Analytical warranty value of the product ingredients:
Moisture: ≤12%
Graininess: 40-pore-riddle screening remains≤10%

Ingredients:
(various enzymes, carriers, calcium propionate etc.)

Functions:
1.Increase the speed of gaining weight, and improve the feed conversion rate.
2.Shorten the fattening period, so as to reduce the feeding cost.
3.Extend the peak time of lactation, and increase the lactation quantity and the content of dry matters in the milk.
4.Speed up the growth of the wool, improve the quality of the cashmere and increase the output.
5.Reduce the organic substance in feces, so as to reduce the pollution to the environment.

Directions:
1、This product is for growing-finishing ruminant diets.
2、Add 0.7-1kg of this product to every ton of feedstuff.
3、Premix this product with the feedstuff, which is 5-8 times of it, then add the mixture to the large quantities of feedstuff and mix to be even.

Precautions:
1、Avoid moisture.
2、If there is remainder after used, the inner and outer packages should be tightened.
3、Avoid inhaling into the respiratory tract.